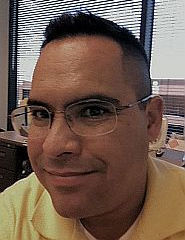 I was born in Denver in 1965 but moved to Texas at the age of three, first to La Marque and then settling in Fort Worth in 1968. My father worked for the US Army Corps of Engineers as a civil engineer and in 1975 he uprooted myself, my three brothers and my mom to Livorno which is a port city on the Ligurian Sea on the western coast of Tuscany, Italy. In 1977 we moved again to Riyadh, Saudi Arabia where I spent the 6th through 8th grades attending the Riyadh International Community School (RICS). We moved back to the states in 1980 where I graduated from Fort Worth's OD Wyatt high school in 1983.
After a brief stint at the University of North Texas I began my working career at Anacomp, a company that manufactured microfiche. I worked at Anacomp until 2000 and then got a job as a pre-sales analyst at PSI Technologies, a Austin privately held company in the electronic document management industry. The company was acquired by Fiserv in 2001 and I relocated to Wimberley in June of 2001. With over 32 years in electronic document management services in a wide variety of roles throughout my career I enjoy my current role as an account manager with Fiserv. I have experience in Production Operations, Implementations, Pre Sales, Project Management and Account Services.
I married Stacy Jo Nelson in October 1985 and together we raised two wonderful children. Shawn is a 12 year veteran of the United States Air force, currently living in Wasilla, Alaska and Brandi who graduated from Southwest State in 2011 with an accounting degree works as a senior financial analyst for the Hachette publishing company living with her fiancée in Brooklyn, NY. Stacy started working for the Ozona National bank shortly after moving to Wimberley where she got a part time job as a teller in the drive through bank. A week later the bank offered her a full time position as a teller in the main Wimberley branch. She has been a staple at the bank ever since. Stacy and I built a home in the River Oaks subdivision of Wimberley in 2014 and plan on staying in Wimberley for the foreseeable future.
I attribute my love of cooking to enjoying my mom's cooking growing up and experiencing many different types of food from my time living abroad.
When not working I'm involved in several organizations around the Wimberley area. I'm a 3rd degree Knight of Columbus, Eucharistic minister at St. Mary Catholic Church, board member of the River Oaks POA and the Central Texas Columbus Club and member of the Men's Cooking Club of Wimberley. I also enjoy 9-pin bowling at the Fischer Bowling Club, camping and floating the river in my off time.