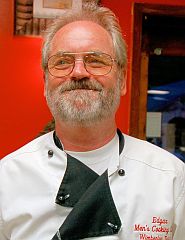 Born and raised along the Rhine River in the City of Mainz, Germany; graduated from the University of Frankfurt in 1969 with a Master of Science in Electrical Engineering. Along with wife Brigitte, owned and operated a radio and television store for 12 years.
In 1987 moved to Raleigh, NC to work for a German company as a sales and marketing manager at Research Triangle Park. In 1996, relocated to Wimberley and worked for several US and Canadian software companies.
Travelled the US extensively for 12 years. Started a website design career in 1999, which is still ongoing.
Having been a member of a cooking club in Germany with member clubs all over Europe, in 2003 started the Men's Cooking Club of Wimberley, which rapidly grew to 10 members, who meet once a month for a gourmet cooking evening at the Wimberley Cafe.
Lives with wife Brigitte, dog Molly and the horses Monty and Cheyenne in the Burnett Ranch area off of FM2325.